Fields and Focus of Research
1. Waterchemical analysis:
Digestion for element analyses
- Aqua regia extract
- Microwave supported digestion (MLS Ethos)
Element determination
- using ICP-MS (PerkinElmer Nexion 2000)
- using Continuum Source Atomic Absorption Spectrometry with flame and graphite furnace (Analytik Jena contrAA 700)
- using Atomic Fluorescence (for mercury)(Analytik Jena mercur)
Adsorbable Organic Halogens AOX (Analytik Jena multi X 2000)
Determination of anions using ion chromatography (Dionex ICS-1100)
other wet chemical and photometrical analyses
2. Suitability test interlaboratory comparisons within the framework of the AQS Baden-Württemberg
3. Strengthening quality infrastructure in developing countries
Current Research Projects
Further development of interlaboratory comparisons
for the sampling of waste water
for on-site analysis
embryo test with the zebrafish
with suspending substances
for the determination of trace substances
Completed Research Projects
Most photovoltaic modules contain pollutants such as lead, cadmium, tellurium, copper and other heavy metals. The aim of this project was to clarify mechanisms that can lead to the release of pollutants from modules in case of improper disposal and to identify weak points.
The project showed leaching of pollutants from module pieces cut from commercially available photovoltaic technologies. Crystalline silicon (c-Si), amorphous silicon (a-Si), CIGS (copper indium gallium diselenide) modules, and cadmium telluride (CdTe) modules were studied. Leaching of the pollutants in aqueous solutions begins as soon as open edges or glass breaks occur. The delamination of the module pieces is not a prerequisite for leaching.
The results of the measurements of the leached elements were expressed as a percentage of the total content of the elements in the modules. The measurements of the total contents of the module pieces by means of a mass spectrometer (ICP-MS) was accompanied by a verification of the elements in the layers via an X-ray analysis in a scanning electron microscope (SEM). Conventional leaching tests for waste use a fixed solid to liquid ratio, for example in DIN EN 12457-4 a ratio of 1:10. In contrast to other leaching tests, which only last 18 to 48 hours in distilled water or in aqueous solutions with a pH of 4.93, in this project long-term tests over 1.5 years in pH 3, pH 7 and pH aqueous solutions 11 were performed.
The leaching of the elements from the module pieces depends strongly on the pH and redox potential of the aqueous solutions. The used pH values ​​3, 7 and 11 cover the range of pH values ​​which can occur in the environment. Thermodynamic stability considerations, as in Pourbaix diagrams, make the mobilization of the elements predictable. The type of acid or the corresponding counter ion play less of a role.
In all experiments, a steady increase in the leached elements could be observed. Experimental parameters such as agitation, elevated temperature or lighting do not always lead to an acceleration in the leaching of the respective elements.
In the case of c-Si module pieces, the back contact of Al dissolves particularly well in acidic solutions. In the case of a-Si module pieces, Ni could be measured from the back contact and Cu, which is located both in the back contact and in the solder strips, in solutions of pH 3 and pH 7. The elements Cd, Te and Mo from CdTe module pieces show a particularly strong dissolution behavior. Cd and Te come from the active layer and Mo from the back contact of the CdTe module pieces. From CIGS module pieces, both Zn from the front contact, and Cd from the window layer and molybdenum from the back contact dissolve to large proportions.
Please, read the full final report [de].
Short project description: Release of hazardous substances from photo-voltaic modules
The market for photovoltaic (PV) modules registers strong growth rates. It is assumed that solar modules produce energy on the average for 25 years. Afterwards they must be disposed of and/or recycled. It is a goal to introduce a sustainable recirculation system for PV products with a comprehensive collecting system including civic amenity sites; in addition suitable efficient recycling procedures must be developed, which allow a complete separation of valuable material in high purity and do not cause subsequent disposal problems. The level of knowledge for the liberation of pollutants from photovoltaic modules under different environmental condition at present is still small. Liberation of pollutants during the operation of the modules according to information from manufacturers is impossible. The possibility of a release of pollutants, e.g. after stone impact, hail, fire, effect of acid rain or oxidizing agents etc. must be examined however. In addition it must be examined, what consequences appear, if modules and/or crushed modules are inappropriately disposed of (domestic waste, glass waste).
The project covers:
Investigation and evaluation of recycling procedures for different solar modules
Investigation of the liberation potential for pollutants from photovoltaic modules during the operation, in particular under strongly changing climatic conditions, and after the end of the lifetime under different conditions
Evaluation of the environmental behavior and the recycling procedures regarding the situation in threshold and developing countries
Investigation of the possibilities to avoid the liberation of pollutants and development of proposals for environmentally more friendly solar modules and recycling practices.
Evaluation of the results.
Please, read the full final report [de].
Short project description: Photovoltaikmodules - environmental acceptability and recycling potentiality
Financing Institution
Ministerium für Umwelt, Naturschutz und Verkehr Baden-Württemberg
Contact
Prof. Dr. rer. nat. habil. Jörg W. Metzger
Dr. Klaus Fischer
Dr.-Ing. Michael Koch
Project partner
ISWA, Arbeitsbereich Siedlungsabfall, Dr. K. Fischer
Institut für Physikalische Elektronik, Arbeitsgruppe Industrielle Solarzellen, Dr. R. Zapf-Gottwick
ISWA, Arbeitsbereich Hydrochemie und Analytische Qualitätssicherung, Dr. M. Koch
Duration
12/2010 - 11/2011
An effective regional quality infrastructure (QI), in which all parties recognise each other mutually, plays a central role for the development of a common market in the member countries of the East African Community (Tanzania, Kenya, Uganda, Rwanda and Burundi) since it enables, to a large extent, a mutual and free movement of goods as well as the development of environmental and consumer protection on a liberalised market.
In a project of the German metrology institute Physikalisch-Technische Bundesanstalt (Project executing agency: Secretariat of the East African Community) this QI is to be strengthened. For this purpose among other things proficiency test for the chemical analysis of food (edible salt, wheat flour, edible vegetable oil) are performed.
Scientific support and consultancy of these PT schemes is the task of ISWA in this project.
Short project description: Establishment of a regional quality infrastructure in the East African Community (EAC)
Financing Institution
Physikalisch-Technische Bundesanstalt (PTB)
Contact
Prof. Dr. rer. nat. habil. Jörg W. Metzger
Dr.-Ing. Michael Koch
Funding Code
PN 2007.2032.6 /95015
Duration
since 12/2017,

for an unlimited period
Contact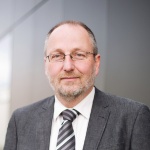 Michael Koch
Dr.-Ing.
Scientific director of AQS Baden-Württemberg (Analytical Quality Assurance Baden-Württemberg)