Water is the basic requirement for life and, thus, particularily worth to be protected. Chemical substances introduced into the evironment by human activity can have negative effects on the ecosystem, some of them can influence the quality of potable water or the processes of wastewater treatment.
We investigate the chemical quality of water (ground, surface, wastewater, potable water) as well as the chemical basics of natural and technical processes such as the treatment of potable and wastewater, remediation of contaminated groundwater or composting of green waste. In interdisciplinary cooperation with microbiologists and engineers we work out solutions for the improvement of the quality of water and the environment and among others deal with
the investigation of chemical processes in environmental technical plants
the determination of elimination efficiencies and chemical loads in sewage treatment plants
water and evironmental analysis (determination of summary parameters and individual compounds):

organic micropollutants: pharmaceutical drugs, hormones, pesticides / biocides, PCB, dioxins, PAHs, flame retardants,...
inorganic compounds: nutrients, anions
heavy metal and elemental analysis
effect-based analysis (determination of estrogenic/hormonal activity of environmental samples)

quality assurance in chemical analysis: proficiency testing, advanced and in-house training
biological nitrogen elimination, e.g. in aquacultures
biological processes of remediation (CHC elimination)
The Chair of Hydrochemistry and Hydrobiology in Sanitary Engineering at ISWA was headed by Prof. Dr. rer. nat. habil. Jörg W. Metzger from 04/1996 till 04/2020. The chair is divided into the working groups Hydrochemistry and Analytical Quality Assurance (Head: Dr.-Ing. Michael Koch) and Hydrobioly and Organic Trace Compounds (Head: Dr. rer. nat. Bertram Kuch).
Since 04/2020 Dr. Kuch has taken over the provisional management of the chair.
Contact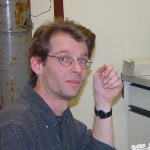 Bertram Kuch
Dr. rer. nat.
Leader of "Hydrobiology and Analysis of Organic Trace Compounds" (BiOS), takes over the official business of the chair by proxy since 01.04.2020