The chair for urban water management consists of the five departments Wastewater Technology, Industrial Water and Wastewater Technology, Competence Centre for Micropollutants, Urban Drainage as well as Water Quality Management and Water Supply. In addition, the Demonstration and Research Wastewater Treatment Plant is organisationally assigned to the chair. Thus, concerning the subject water&wastewater, the research and teaching activities cover a wide range of topics as follows:
Abstraction, treatment, transport, storage and distribution of potable and process water
Urban drainage – flood prevention and management and treatment of storm water
Wastewater treatment technology of municipal wastewater treatment plants including recovery of nutrients and sludge disposal
Industrial pollution prevention and control with process- and production-integrated measures and end-of-pipe-treatment
Characterisation of micropollutant fluxes in urban catchment areas, reduction strategies regarding their application and establishment and further development of advanced wastewater treatment techniques for micropollutant removal,
Water quality management and integrated water resources and water reuse management.
In all areas, we follow the integrated approach taking into account the shift of pollutants from one media to another, energy aspects and the potential of storm and wastewater as a resource in the spirit of circular economy.
Contact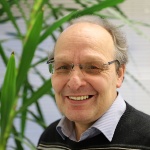 PD Dr.-Ing. habil.
Harald Schönberger
Stand-in professorship "Chair of Urban Water Management and Water Recycling"